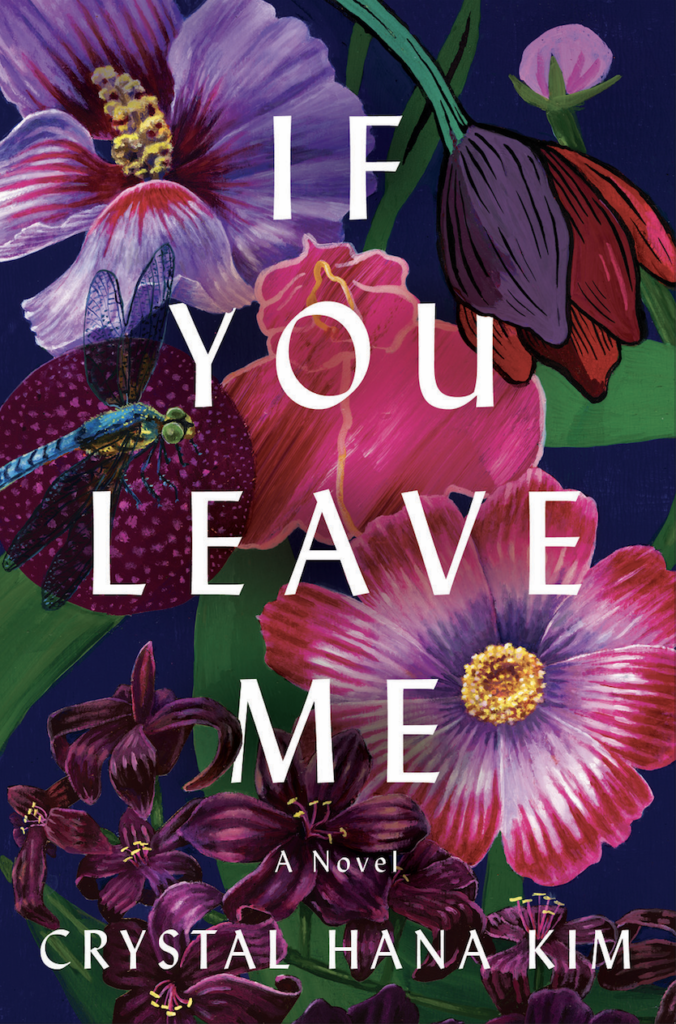 Named a Best Book of 2018 by over a dozen publications including The Washington Post,  Literary Hub, and more.
PRAISE & REVIEWS
"Crystal Hana Kim's stunning debut . . . is interested in something most others aren't: The aftermath. It focuses both on what comes after war — as a new country struggles to develop its identity — and what follows Haemi's fateful decision, as the ramifications of her choice ripple out to affect everyone around her." — The Washington Post
"Crystal Hana Kim's debut is a bold mashup of wartime novel and love-triangle romance. . . Between 1951 and 1967, Kim charts personal and national turmoil with equal interest, offering exquisite scenes of marital discord as adeptly as the inner workings of a refugee village or field hospital." — Star Tribune
"Kim's debut novel tells a story of star-crossed love during the Korean War. A young refugee chooses security over her heart, setting in motion a plot that spans the war years and beyond, following the implications of her difficult decision." — New York Times
"Although If You Leave Me is set in war-torn Korea, the novel mainly concerns itself with love — romantic love, love of country, love of family, and, ultimately, the inability to love on command." — Washington Independent Review of Books
"Crystal Hana Kim's debut novel, If You Leave Me, is as beautifully layered as it is devastating." — Elle
"Debut novelist Kim combines vivid depictions of Korean culture with an immersive, heartbreaking story about war, passion and the road not taken." — People Magazine
"A stunning feat of lyricism, an enthralling, tragic novel brimming with angst and remorse." — USA Today, 4/4 stars
"This is a grand, sweeping story that proves that an epic can yield strong, individualized characters while still developing a nuanced perspective that refuses to essentialize war, women, or national identity." — The Millions
"Hunger, both physical and emotional, haunts the lives of the extended Lee-Yun family during the tumultuous, violent decades that define modern South Korea in the latter twentieth century. . . Kim renders her multivoiced, multilayered ancestral and cultural history into stupendous testimony and indelible storytelling." — Booklist, starred review
"A family struggles to balance tradition and change in Kim's marvelous debut. . . Kim's lyrical intergenerational saga resonates deeply and will appeal to readers who enjoyed The Orphan Master's Son." — Publishers Weekly, starred review
"If You Leave Me is graced with truly wonderful writing; great poise, lyricism, intelligence, and an utterly engrossing portrayal of life." — Richard Ford
"Crystal Hana Kim has written a remarkably absorbing novel of people enduring the unendurables of war with grace, toughness, and undying love. If You Leave Me marks the debut of a natural storyteller." — Chang-rae Lee, author of Native Speaker
"If You Leave Me is a thrilling debut, a lyrical and lovely novel that showcases Crystal Hana Kim's emotional intelligence and empathy for her characters." — Emma Cline, author of The Girls
"Crystal Hana Kim is here to break your heart. Or maybe that's just what her remarkable debut novel has done to me. If You Leave Me is a historical novel that manages to feel current and captivating, a family novel, and a portrait of a woman–a mother–who will captivate, shock and surprise. Lovingly told, lyrical and smart, its a hell of a lot to get right on your first try." — Victor LaValle, author of The Changeling
 "If You Leave Me is exhilarating. It is that rare debut that so masterfully weaves a tapestry of love, war, loss, hope, and the forgotten-I didn't want to leave these characters: moment after moment left me breathless, and my heart ached and plummeted by the story's end. Crystal Hana Kim has written a novel that teaches us and guides us, one that captures majestically, perfectly, not only our histories but our present and our future." – Paul Yoon, author of The Mountain 
"Crystal Hana Kim's If You Leave Me marks the debut of a striking new voice. An unforgettable story of family, love, and war set against the violent emergence of modern Korea, Kim has a gift for the lasting image. Moment by moment, her characters come alive." —Gary Shteyngart, author of Super Sad True Love Story and Little Failure 
"A gripping, heart-rending tale of the birth of modern Korea filtered through the prism of an intimate love story.  In fresh, often astonishing prose, Kim brings her characters to life: complicated, flawed, and hard not to fall in love with. A strikingly original work." — Jessica Shattuck, author of The Women in the Castle
"An engrossing story of love, family, and war on the Korean peninsula. Timely and timeless — a beautiful debut." — David Ebershoff, author of The Danish Girl and The 19th Wife
"In one of my favorite books of summer, Kim reveals the murk of war and a young woman's struggle to balance family needs, her desires, traditional constraints and personal agency. Her prose is beautiful, lyrical, at once restrained and thoughtfully paced." — NewCity Lit
"Complex and fully realized, Kim's characters are caught in circumstances both exceptional and ordinary. Amidst romance, war and a country not merely "rebuilding… [but] shaping ourselves into a different form," If You Leave Me is ultimately a story about finding–and making–a life worth living." — Shelf Awareness, starred review
"Filled with brave personalities of all ages and character-driven story lines that are emotionally gripping, this sensitive and hauntingly written novel will easily leave readers wanting more." — Library Journal
Crystal Hana Kim's sensual debut novel doesn't feel like a debut at all. Set in South Korea in the 1950s and '60s, If You Leave Me is a delicately woven story of love, family, war and isolation. . . Through the lyrical, surprising and chilling prose of If You Leave Me, Kim forces readers to examine the pressure put on women by societies that demand they adhere to one kind of life. . . This is a story worth weeping over, with a fiery and complex heroine that earns the reader's love." — BookPage
"If You Leave Me is a gorgeous, complex novel of home, identity, love and sacrifice." — BookReporter
"Crystal Hana Kim's If You Leave Me is a visceral reminder of what the war actually cost ordinary people who lived through it. . .  a sweeping tale of life, love, and loss that traces the long shadow cast by war over families and individuals." — Singapore Unbound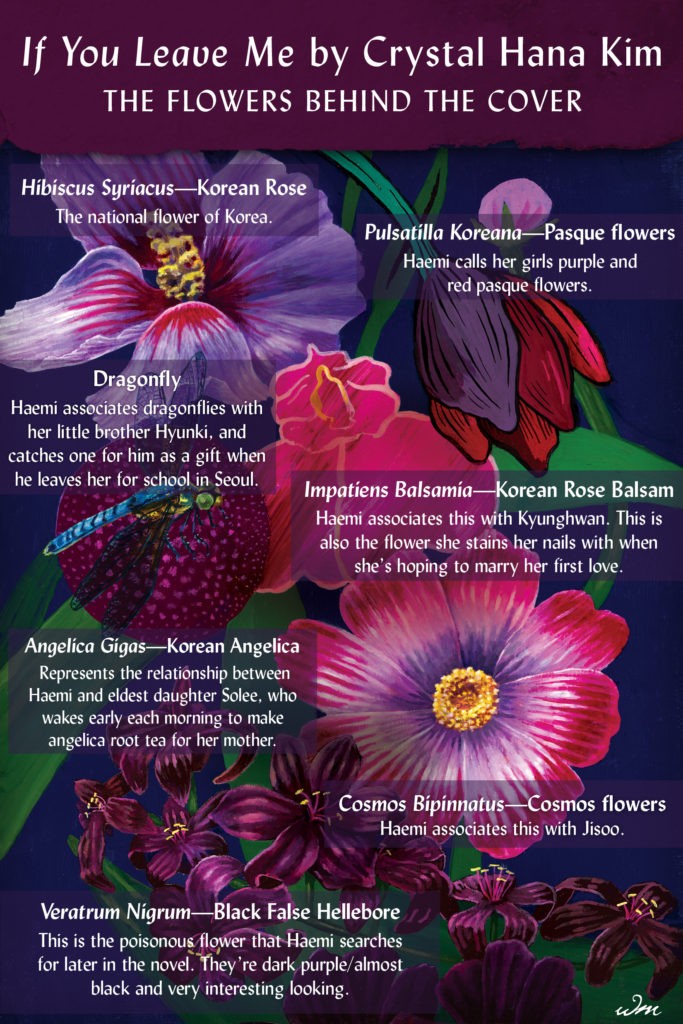 About If You Leave Me
An emotionally riveting debut novel about war, family, and forbidden love—the unforgettable saga of two ill-fated lovers in Korea and the heartbreaking choices they're forced to make in the years surrounding the civil war that still haunts us today.
When the communist-backed army from the north invades her home, sixteen-year-old Haemi Lee, along with her widowed mother and ailing brother, is forced to flee to a refugee camp along the coast. For a few hours each night, she escapes her family's makeshift home and tragic circumstances with her childhood friend, Kyunghwan.
Focused on finishing school, Kyunghwan doesn't realize his older and wealthier cousin, Jisoo, has his sights set on the beautiful and spirited Haemi—and is determined to marry her before joining the fight. But as Haemi becomes a wife, then a mother, her decision to forsake the boy she always loved for the security of her family sets off a dramatic saga that will have profound effects for generations to come.
Richly told and deeply moving, If You Leave Me is a stunning portrait of war and refugee life, a passionate and timeless romance, and a heartrending exploration of one woman's longing for autonomy in a rapidly changing world.